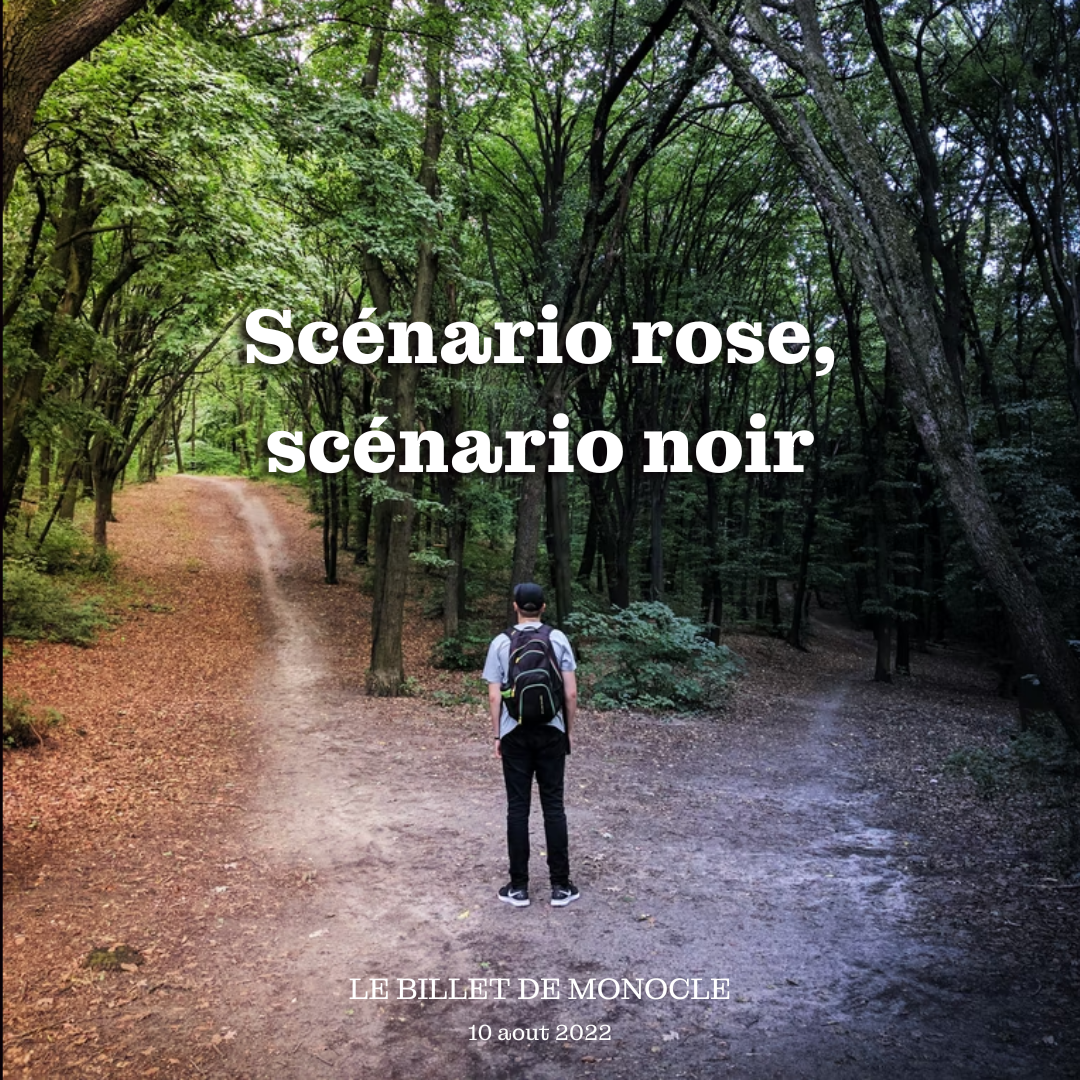 Pink scenario, black scenario
10 August 2022
Hello,
I hope this post finds you in good shape in these ever lively August markets.
Today we are playing the simulation game: what are our possible scenarios for Monocle fund between now and the end of the year? I've made two, I've called them "pink" and "black" but if I were to be precise it would be "light pink" and "dark grey": less extreme but more likely.
I remind you that our positioning today is:
1) A portfolio of good stock lines (30% of the fund) which all seem to us to be relatively cheap and with good prospects (e.g. Unilever; Pfizer; Meta...);
2) An important safety net (23% of the fund) through a downward position on the US SP500 stock index;
3) A few corporate bonds for 10% of the fund (including the SAS joker for 2%);
4) And the rest - excluding protection - is cash or equivalent, for 60% of the fund.
Therefore, first information: if we look at the black scenario, not much happens. In detail, the black scenario is 1) the markets fall by 20% and 2) there are no new COVID vaccination campaigns - so our Pfizer and Biontech shares follow the market downwards. In this case, what we lose in equities is largely offset by our downside position in the SP500. We add some impact on our small bond position and we get a total of -2% compared to now. Reasonable.
Now the "pink" scenario: it is a little more complicated because it works in two stages: first the markets fall, bringing about the long-awaited purge. We take advantage of this decline to exit our hedge position. Then, in the last quarter, things calm down. Investors say to themselves that Meta will finally succeed in its bet on the metaverse; that Intel will become the champion it was. Finally, winter brings a need for vaccinations, which benefits Pfizer and Biontech.
In this pink scenario, our portfolio would be up 10% by the end of the year.
To this we must add the SAS wildcard: we hold a bond in this Scandinavian airline, which is currently priced at 22. As the name implies, SAS has an "obligation" to redeem this paper at its par value of 100. So, of course, the situation of SAS is not "pink" today: they just came out of a strike with their pilots and they have just filed for Chapter 11 to renegotiate their debts. But it's a fairly standard procedure for airlines, and above all the operational figures are improving: the company is no longer burning cash and traffic is up significantly. So on this very illiquid paper, some good news could have a significant effect on the price. On a bond like this one, we can quickly go from 22 to 65. That would be an extra 4% in performance.
This is not a foregone conclusion, of course! And it is also certain that none of these scenarios will come true: there are too many uncertainties. But at least it gives you an idea.
Have a nice evening.
Charles